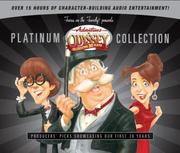 CD J/Fict Adv
Adventures in Odyssey: platinum collection
[Colorado Springs, Colo.] : Focus on the Family, p2007.
12 compact discs (ca. 15 hrs.) : digital ; 12 cm.
Join the kids from Odyssey as they get themselves into, and out of, trouble. They learn the importance of God and how he can help them in any situation they may get themselves into.
Not Available
Compact Disc
There are no copies at Bethlehem Baptist Church available for borrowing
| | |
| --- | --- |
| ISBN: | |
| Dewey Class No: | 791.44/72 22 |
| Title: | Adventures in Odyssey: platinum collection. Platinum collection [sound recording]. |
| VaryingTitle: | |
| Publisher: | [Colorado Springs, Colo.] : Focus on the Family, p2007. |
| Physical: | 12 compact discs (ca. 15 hrs.) : digital ; 12 cm. |
| Series: | |
| Notes: | At head of container title: Focus on the Familyª presents. |
| Notes: | "Producer's picks showcasing our first 20 years"--Container. |
| Summary: | Join the kids from Odyssey as they get themselves into, and out of, trouble. They learn the importance of God and how he can help them in any situation they may get themselves into. |
| Subject: | |
| Subject: | |
| Subject: | |
| AE:CorpName: | Focus on the Family (Organization) |
| SAE:UnifrmTitle: | |
| Link: | |
| Field | Ind | Subfield | Data |
| --- | --- | --- | --- |
| 001 Control No | | | 11737 |
| 005 LastTransaction | | | 20190813145249.0 |
| 007 Phys Desc Fixed | | | sd fsngnnmmned |
| 008 Data Elements | | | 100907s2007 counnnnj d n eng d |
| 020 ISBN | | $a ISBN | 978-1-58997-383-1 |
| 035 System Ctrl No | | $a System control number | 8810 |
| 040 Cataloging Src | | $a Original cataloging agency | CaNSH |
| | | $b Language of cataloging | eng |
| | | $c Transcribing agency | CaNSH |
| 082 Dewey Class No | | $a Classification number | 791.44/72 |
| | | $2 Edition number | 22 |
| 090 | | $a | COMPACT DISC 791.4772 A244p |
| 245 Title | 00 | $a Title | Adventures in Odyssey: platinum collection. |
| | | $p Name of part/section of a work | Platinum collection |
| | | $h Medium | [sound recording]. |
| 246 VaryingTitle | 30 | $a Title proper/short title | Platinum collection |
| | | $h Medium | [sound recording] |
| 260 PublicationInfo | | $a Place of publication, dist. | [Colorado Springs, Colo.] : |
| | | $b Name of publisher, dist, etc | Focus on the Family, |
| | | $c Date of publication, dist, etc | p2007. |
| 300 Physical Desc | | $a Extent | 12 compact discs (ca. 15 hrs.) : |
| | | $b Other physical details | digital ; |
| | | $c Dimensions | 12 cm. |
| 490 SeriesStatement | 1 | $a Series statement | Adventures in Odyssey audio series |
| 500 General Note | | $a General note | At head of container title: Focus on the Familyª presents. |
| 500 General Note | | $a General note | "Producer's picks showcasing our first 20 years"--Container. |
| 505 ContentsNote | 0 | $t Title | The meaning of sacrifice -- |
| | | $t Title | Treasures of the heart -- |
| | | $t Title | Sunday morning scramble -- |
| | | $t Title | Someone to watch over me -- |
| | | $t Title | Isaac the chivalrous -- |
| | | $t Title | Our Father -- |
| | | $t Title | Greater love -- |
| | | $t Title | Clara -- |
| | | $t Title | A lesson from Mike -- |
| | | $t Title | The tangled web -- |
| | | $t Title | The boy who didn't go to church -- |
| | | $t Title | Called on in class -- |
| | | $t Title | Over the airwaves -- |
| | | $t Title | On solid ground -- |
| | | $t Title | B-TV: compassion -- |
| | | $t Title | Train ride -- |
| | | $t Title | Real time -- |
| | | $t Title | It happened at Four Corners -- |
| | | $t Title | The shepherd and the giant -- |
| | | $t Title | The mortal coil part 1 -- |
| | | $t Title | The mortal coil part 2 -- |
| | | $t Title | Best intentions -- |
| | | $t Title | Family values -- |
| | | $t Title | Welcoming Wooton -- |
| | | $t Title | Elijah part 1 -- |
| | | $t Title | Elijah part 2 -- |
| | | $t Title | Hidden in my heart -- |
| | | $t Title | The ill-gotten deed -- |
| | | $t Title | By dawn's early light -- |
| | | $t Title | It is well -- |
| | | $t Title | The great wishy Woz, part 1 -- |
| | | $t Title | The great wishy Woz, part 2 -- |
| | | $t Title | Odyssey sings! -- |
| | | $t Title | Connie part 1 -- |
| | | $t Title | Connie part 2 -- |
| | | $t Title | The time has come. |
| 520 Summary | | $a Summary, etc. note | Join the kids from Odyssey as they get themselves into, and out of, trouble. They learn the importance of God and how he can help them in any situation they may get themselves into. |
| 590 Local Notes | | $a Local Notes | JCDNF ll Check in note: Includes 12 CDs. |
| 650 Subj:Topic | 0 | $a Topical term | Christian life |
| | | $v Form subdivision | Drama. |
| 650 Subj:Topic | 0 | $a Topical term | Friendship |
| | | $v Form subdivision | Drama. |
| 650 Subj:Topic | 0 | $a Topical term | Truthfulness and falsehood |
| | | $v Form subdivision | Drama. |
| 655 IT:Genre | 7 | $a Genre/form data or focus term | Christian drama. |
| | | $2 Source of term | lcsh |
| 655 IT:Genre | 7 | $a Genre/form data or focus term | Radio plays. |
| | | $2 Source of term | lcsh |
| 655 IT:Genre | 7 | $a Genre/form data or focus term | Children's radio programs. |
| | | $2 Source of term | lcsh |
| 655 IT:Genre | 7 | $a Genre/form data or focus term | Children's books on CD. |
| | | $2 Source of term | local. |
| 710 AE:CorpName | 2 | $a Corporate name | Focus on the Family (Organization) |
| 830 SAE:UnifrmTitle | 0 | $a Uniform title | Adventures in Odyssey audio series. |
| 852 Holdings | | $a Location | BBC |
| | | $h Classification part | CD J/Fict Adv |
| | | $p Barcode | 17947 |
| | | $9 Cost | $23.50 |
| 856 ElectronicLocat | 4 | $3 Materials specified | Cover image |
| | | $u Uniform Resource Identifier | https://covers.openlibrary.org/b/id/1968124-M.jpg |