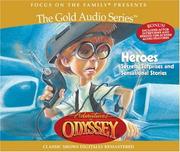 CD J/Fict Adv
Adventures in Odyssey: heroes, secrets, surprises and sensational stories secrets, surprises and sensational stories
Colorado Springs, Colo. : Focus on the Family, 2003.
4 sound discs (ca. 330 min.) : digital ; 4 3/4 in.
What makes someone a hero? In this collection, the Odyssey gang learns that heores take many forms. But ultimately they find that trusting God, the greatest hero of all, will start them on one thrilling journey after another.
Not Available
Compact Disc
There are no copies at Bethlehem Baptist Church available for borrowing
| | |
| --- | --- |
| ISBN: | |
| ISBN: | |
| Dewey Class No: | 791.44 |
| Title: | Adventures in Odyssey: heroes, secrets, surprises and sensational stories [sound recording] : secrets, surprises and sensational stories / Focus on the Family. |
| VaryingTitle: | Title on container: Focus on the Family presents adventures in Odyssey |
| Publisher: | Colorado Springs, Colo. : Focus on the Family, 2003. |
| Physical: | 4 sound discs (ca. 330 min.) : digital ; 4 3/4 in. |
| Series: | |
| Series: | |
| Notes: | "Classic shows digitally remastered"--Container. |
| Notes: | Previous title: Secrets, surprises and sensational stories. |
| Notes: | This set features 12 episodes from the "Adventures in Odyssey" weekly radio series. |
| Notes: | In two parts, each with 6 episodes on 2 discs. |
| Notes: | Bonus material: The creation of Eugene Meltsner ; How is the actress Katie Leigh like Connie? ; The many voices of Bob Luttrell ; The inspiration for "Peace on earth". |
| ParticipantNote: | Featuring voice talents of: Hal Smith, Katie Leigh, Will Ryan and Walker Edmiston. |
| Summary: | What makes someone a hero? In this collection, the Odyssey gang learns that heores take many forms. But ultimately they find that trusting God, the greatest hero of all, will start them on one thrilling journey after another. |
| Target Audience: | |
| Subject: | |
| Subject: | |
| Subject: | |
| AE:CorpName: | Focus on the Family (Organization) |
| AE:CorpName: | Tyndale Family Video (Firm) |
| AE:UnifTitle: | |
| SAE:UnifrmTitle: | |
| SAE:UnifrmTitle: | |
| Link: | |
| Field | Ind | Subfield | Data |
| --- | --- | --- | --- |
| 001 Control No | | | 11733 |
| 005 LastTransaction | | | 20190813144550.0 |
| 007 Phys Desc Fixed | | | sd fsngnn||||d |
| 008 Data Elements | | | 040227s2003 xxunnn j f eng d |
| 020 ISBN | | $a ISBN | 978-1-58997-072-4 |
| 020 ISBN | | $a ISBN | 978-1-58997-072-4 |
| 024 Other ID | 1 | $a Standard number or code | 023755045300 |
| 035 System Ctrl No | | $a System control number | (OCoLC)ocm54496403 |
| 035 System Ctrl No | | $a System control number | 6689 |
| 040 Cataloging Src | | $a Original cataloging agency | LKR |
| | | $c Transcribing agency | LKR |
| | | $d Modifying agency | BAKER |
| | | $d Modifying agency | DTM |
| 049 | | $a | DTMJ |
| 082 Dewey Class No | 4 | $a Classification number | 791.44 |
| 099 | | $a | J-CD 0019 SET |
| 245 Title | 00 | $a Title | Adventures in Odyssey: heroes, secrets, surprises and sensational stories |
| | | $h Medium | [sound recording] : |
| | | $b Remainder of title | secrets, surprises and sensational stories / |
| | | $c Statement of responsibility | Focus on the Family. |
| 246 VaryingTitle | 1 | $i Display text | Title on container: |
| | | $a Title proper/short title | Focus on the Family presents adventures in Odyssey |
| 260 PublicationInfo | | $a Place of publication, dist. | Colorado Springs, Colo. : |
| | | $b Name of publisher, dist, etc | Focus on the Family, |
| | | $c Date of publication, dist, etc | 2003. |
| 300 Physical Desc | | $a Extent | 4 sound discs (ca. 330 min.) : |
| | | $b Other physical details | digital ; |
| | | $c Dimensions | 4 3/4 in. |
| 306 Playing Time | | $a Playing time | 060000 |
| 490 SeriesStatement | 1 | $a Series statement | Focus on the Family presents |
| 490 SeriesStatement | 1 | $a Series statement | Adventures in Odyssey gold audio series ; |
| | | $v Vol. no./sequential designatn | v. 3 |
| 500 General Note | | $a General note | "Classic shows digitally remastered"--Container. |
| 500 General Note | | $a General note | Previous title: Secrets, surprises and sensational stories. |
| 500 General Note | | $a General note | This set features 12 episodes from the "Adventures in Odyssey" weekly radio series. |
| 500 General Note | | $a General note | In two parts, each with 6 episodes on 2 discs. |
| 500 General Note | | $a General note | Bonus material: The creation of Eugene Meltsner ; How is the actress Katie Leigh like Connie? ; The many voices of Bob Luttrell ; The inspiration for "Peace on earth". |
| 505 ContentsNote | 0 | $a Formatted contents note | pt. 1. disc 1. Back to school ; Shepherd and the giant ; Mike makes right -- pt. 1. disc 2. Rumor has it ; Heroes ; Thank you, God -- pt. 2. disc 1. Karen ; Connie, part I-II -- pt. 2. disc 2. Single vote ; Sacred trust ; Peace on earth. |
| 511 ParticipantNote | 1 | $a Participant or performer note | Featuring voice talents of: Hal Smith, Katie Leigh, Will Ryan and Walker Edmiston. |
| 520 Summary | | $a Summary, etc. note | What makes someone a hero? In this collection, the Odyssey gang learns that heores take many forms. But ultimately they find that trusting God, the greatest hero of all, will start them on one thrilling journey after another. |
| 521 Target Audience | 1 | $a Target audience note | Recommended for ages 8 and up. |
| 650 Subj:Topic | 0 | $a Topical term | Radio plays. |
| 650 Subj:Topic | 0 | $a Topical term | Children's radio programs. |
| 650 Subj:Topic | 0 | $a Topical term | Christian drama. |
| 710 AE:CorpName | 2 | $a Corporate name | Focus on the Family (Organization) |
| 710 AE:CorpName | 2 | $a Corporate name | Tyndale Family Video (Firm) |
| 730 AE:UnifTitle | 0 | $a Uniform title heading | Adventures in Odyssey (Radio program) |
| 830 SAE:UnifrmTitle | 0 | $a Uniform title | Focus on the Family presents. |
| 830 SAE:UnifrmTitle | 0 | $a Uniform title | Adventures in Odyssey. |
| | | $p Name of part/section of a work | Gold audio series ; |
| | | $v Volume/sequential designation | v. 3. |
| 852 Holdings | | $a Location | BBCN |
| | | $h Classification part | CD J/Fict Adv |
| | | $p Barcode | 17943 |
| | | $9 Cost | $12.50 |
| 856 ElectronicLocat | 4 | $3 Materials specified | Cover image |
| | | $u Uniform Resource Identifier | https://covers.openlibrary.org/b/id/858696-M.jpg |